Item one
(belated): Hooray! I
won a blog contest
! Thank you Kristen!
Item two
: But I'll have to be careful with the yarn lest I end up as yet another grim statistic: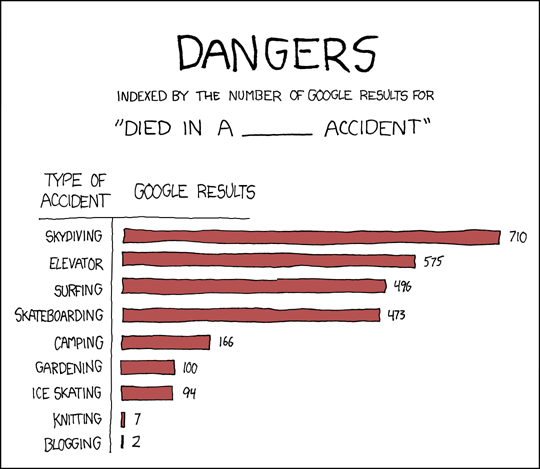 (Check
xkcd
for the original)
Item three
: I finally remembered to take a photo of my Embossed Leaves socks in progress.
Pattern: Embossed Leaves socks by Mona Schmidt, from
Favorite Socks
.
Yarn: Claudia Hand Painted sock yarn in the Moss colourway
Modifications: I did what I think is some sort of eye of partridge heel instead of the pattern's stockinette-plus-garter-edges. Also, my gauge is loose, so I need to rip back the completed sock so there are 6.5 instead of 7 repeats, then fiddle with the toe pattern to compensate.
Item four
: I caught a glimpse of the cats coexisting peacefully.
Unfortunately it ended seconds later when Claude bit Chester and Chester retaliated in spades. Oh well.
Item five
: It's rained in Vancouver on my last 3.95 visits there, but last weekend the sun stayed out for long enough for me to get this photo: